+91-581-2301318 | anft.journal@gmail.com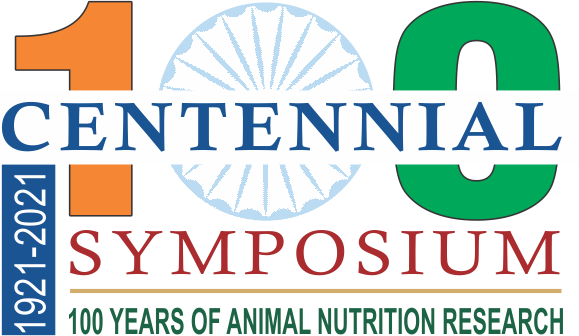 CENTENNIAL SYMPOSIUM
100 YEARS OF ANIMAL NUTRITION RESEARCH IN INDIA
March 11-12, 2021
Centennial Quiz
Competition
The Centennial Quiz Competition will be held at two levels in an online mode. The preliminary competition will be held at the zonal level. Postgraduate students in Animal Nutrition from the five zones (East, West, North, South and Central) of India are eligible to compete in their respective zones in the preliminary round. The final round of the competition at the national level will be held among five zonal level top teams online on 12 March 2021. The top three teams will be conferred cash prizes (Rs. 10000, 5000 and 3000 for the 1st, 2nd and 3rd ranked teams, respectively) along with certificates.
The Animal Nutrition Association Centennial Quiz Competition for PG students in Animal Nutrition discipline in India will be conducted in two levels i.e. Preliminary level and Final level.
Preliminary Level Competition
Preliminary level of the competition will be conducted by the designated Zonal Coordinators covering all the colleges/institutes of that zone to select candidates for Final level of the competition. Interested students should contact the Zonal Coordinators of their respective zones for participation.
Zone
Zonal Coordinators
States covered
North zone
Dr. Ankur Rastogi, Associate Professor
Division of Animal Nutrition
Faculty of Veterinary Sciences & Animal Husbandry
SKUAT-Jammu - 180009
Mobile: +91-9419149431
E-mail: dr_ankur76@rediffmail.com
J&K, Haryana, Uttarakhand, Himachal Pradesh, Punjab, Chandigarh, Delhi
South zone
Dr. P. Vasan, Professor
Department of Animal Nutrition
Veterinary College and Research Institute
Namakkal – 637002
Mobile: +91-9444694530
E-mail: drpvasan@gmail.com
Andhra Pradesh, Telangana, Kerala, Karnataka, Tamil Nadu, Andaman & Nicobar, Puducherry
East zone
Dr. Bibekananda Saikia, Dean
Faculty of Veterinary Science
Assam Agricultural University
Guwahati – 781022
Mobile: +91-9864078549
E-mail: bibekas.saikia5@gmail.com /bibeka.saikia@aau.ac.in
Arunachal Pradesh, Assam, Manipur, Meghalaya, Mizoram, Nagaland, Tripura, Odisha, Sikkim, West Bengal
West zone
Dr. Atul P. Dhok, Assistant Professor
Department of Animal Nutrition
Nagpur Veterinary College
MAFSU Nagpur – 440006
Mobile: +91-9823176352
E-mail: atuldhok123@yahoo.co.in
Rajasthan, Maharashtra, Goa, Gujarat, Dadra and Nagar Haveli, Daman and Diu, Lakshadweep
Central zone
Dr. Vinod Kumar, Professor & Head
Department of Animal Nutrition
College of Veterinary Science & Animal Husbandry
DUVASU, Mathura – 281001
Mobile: +91-98376 36535
E-mail: vinodsidhu@rediffmail.com
Madhya Pradesh, Uttar Pradesh, Chhattisgarh, Bihar, Jharkhand
Each team should have two members who must be bonafide students (Masters and PhD; excluding in-service candidates) on roll as on the date of the competition.
Each college/institution can be represented by not more than two teams.
The zonal level quiz competition will comprise of a written quiz paper of 50 marks containing 50 MCQs covering all the areas of Animal Nutrition.
A time limit of maximum 30 minutes will be given to solve the paper.
Standard invigilation procedures would be followed. The Zonal Coordinators will ensure fair competition at the preliminary level zonal quiz.
Paper for preliminary level zonal quiz competition would be set by the Zonal Coordinators. In case of a tie between 2 or more teams, further short quiz comprising 10 MCQs would be conducted for final selection.
After evaluation of the quiz papers, on the basis of merit/score, the Zonal Coordinators will communicate the top team of two successful candidates to ANA HQ for participation in final level quiz competition in online mode. Thus there would be total five teams in the final level of the quiz competition.
Final Level Competition
The final level of the competition would be conducted in online mode by ANA HQ at ICAR-IVRI, Izatnagar.
Only qualified team entries communicated by the Zonal Coordinators are eligible, and team shall consist of two candidates.
Teams will be registered and replacement of any participant of a team will not be allowed after registration.
The participants shall not be allowed to use mobile or other electronic instruments.
The questions shall be in the form of Answer the Specific Question, Multiple Choice, True/False statement, Picture/Photo Identification, and Rapid fire questions, etc.
Final level of quiz competition will be conducted in five rounds. The details about the conduct and various rounds of the final competition will be communicated to the teams well in advance in due course of time.
For further queries, please contact:
Dr. Sunil E Jadhav, Principal Scientist
National Coordinator, ANA Centennial Quiz Competition
Division of Animal Nutrition
ICAR-Indian Veterinary Research Institute
Izatnagar-243122, India
Mobile: +91-75992 87128
E-mail: sejadhav1@gmail.com
Ownership:
ANA maintains this site for your information, education, and communication. Please feel free to browse the Site.
If you are browsing the Site as a non-commercial consumer, you may download material displayed on the Site for your non-commercial, personal use only. If you are browsing this Site as an employee/agent/member of any business or organization, you may download material/ information displayed on the Site only for non-commercial purposes, personal use only. This permission is specifically conditioned on your retaining all copyright and other proprietary notices contained on the materials. Additionally, you may not distribute or transmit, modify, reuse, report, or use the contents of this site for public or commercial purpose, including the text, images, audio and video without our written permission
Your access and use of the Site is also subject to the following terms and conditions ("Terms and Conditions") and all applicable laws. By accessing and browsing the Site, you accept, without limitation or qualification, the Terms and Conditions of Use below.
Terms and Conditions of Use:
Information (content, images, specifications and prices wherever listed) are subject to change without prior notice. You should assume that all material / information on the Site is protected by copyright unless otherwise noted and may not be used except as permitted in these Terms and Conditions or in the text on this Site.
Limitation of Liability
Although care has been taken to ensure the accuracy of the contents of this Site, ANA makes no warranties or representations as to its accuracy and ANA specifically disclaims any liability or responsibility for any errors or omissions in the content on the Site. Neither ANA nor any other party involved in creating, producing, or delivering the Site is liable for any direct, incidental, consequential, indirect, or punitive damages arising out of you access to, or use of, or inability to use or access, the Site. Without limiting the foregoing, everything on this Site is provided to you "AS IS" WITHOUT WARRANTY OF ANY KIND, EITHER EXPRESSED OR IMPLIED, INCLUDING, BUT NOT LIMITED TO, THE IMPLIED WARRANTIES OF MERCHANTABILITY, FITNESS FOR A PARTICULAR PURPOSE, OR NON-INFRINGEMENT.
Please note that ANA assumes no responsibility, and shall not be liable for, any damages to, or viruses that may infect, your Computer equipment or other property on account of your access to, use of, or browsing in the Site or your downloading of any material, data, text, images, video or audio from the Site.
Responsibility for User's material / information:
The material / information provided on the Site is either the property of, or used with permission by, ANA. Unless otherwise specified by these terms and conditions or specific permission provided elsewhere on this Site, the Site is for your personal and non-commercial use. You may not distribute, exchange, modify, sell or transmit anything you copy from this Site, including but not limited to any text, images, audio and video, for any business, commercial or public purpose. As long as you comply with the Terms and Conditions of Use, ANA grants you a non-exclusive, non-transferable, limited right to enter, display and use this Site. Any unauthorized use of the content including images, video, animations, may violate copyright laws, trademark laws, the laws of privacy and publicity, and civil and criminal statutes.
Links
The Site may provide links to other Web Sites, which are not under control of ANA and it shall not be responsible in any way for the contents of any such web Sites linked to or from its Site. Any inclusion of such links shall not imply / interpreted as an endorsement of the owner / sponsor of the site or the content of the site. ANA disclaims all warranties, express and implied as to accuracy, validity, and legality or otherwise of any materials or information contained on such sites.
Right to Change The Terms and Conditions of Use or Content on the Site:
ANA may at any time revise these Terms and Conditions of Use by updating this posting. Since you are bound by these Terms and Conditions, you should therefore periodically visit this page, by clicking on the Terms of Use hyperlink at the bottom of the web pages of the Site, to review the Terms and Conditions of Use. Copyright, unless otherwise stated, or similar rights in all material presented on the Site, including graphical images, is owned by ANA.
Trademarks
The Trademarks, logos and service marks (collectively the "Trademarks") are the trademarks of ANA and / or its affiliates. Any other trademarks used in the Site are trademarks of their respective owners. Nothing contained on the Site should be construed as granting, by implication, or otherwise, any license or right of use any Trademark displayed on the Site without written permission of ANA.
ANA can be contacted at: Animal Nutrition Association, Indian Veterinary Research Institute, Izatnagar - 243 122, India
Email: anft.journal@gmail.com

This privacy policy sets out how we use and protect any information that you give us when you use this website.
We are committed to ensuring that your privacy is protected. Should we ask you to provide certain information by which you can be identified when using this website, then you can be assured that it will only be used in accordance with this privacy statement.
We may change this policy from time to time by updating this page. You should check this page from time to time to ensure that you are happy with any changes.
What we collect
We may collect the following information:
name and job title
contact information including email address
demographic information such as pin code, preferences and interests
other information relevant to customer surveys and/or offers
What we do with the information we gather
We require this information to understand your needs and provide you with a better service, and in particular for the following reasons:
Internal record keeping.
We may use the information to improve our products and services.
We may periodically send promotional emails about new products, special offers or other information which we think you may find interesting using the email address which you have provided.
From time to time, we may also use your information to contact you for market research purposes. We may contact you by email, phone, or mail. We may use the information to customise the website according to your interests.
Security
We are committed to ensuring that your information is secure. In order to prevent unauthorised access or disclosure we have put in place suitable physical, electronic and managerial procedures to safeguard and secure the information we collect online.
How we use cookies
A cookie is a small file which asks permission to be placed on your computer's hard drive. Once you agree, the file is added and the cookie helps analyse web traffic or lets you know when you visit a particular site. Cookies allow web applications to respond to you as an individual. The web application can tailor its operations to your needs, likes and dislikes by gathering and remembering information about your preferences.
We use traffic log cookies to identify which pages are being used. This helps us analyse data about webpage traffic and improve our website in order to tailor it to customer needs. We only use this information for statistical analysis purposes and then the data is removed from the system.
Overall, cookies help us provide you with a better website, by enabling us to monitor which pages you find useful and which you do not. A cookie in no way gives us access to your computer or any information about you, other than the data you choose to share with us.
You can choose to accept or decline cookies. Most web browsers automatically accept cookies, but you can usually modify your browser setting to decline cookies if you prefer. This may prevent you from taking full advantage of the website.
Links to other websites
Our website may contain links to other websites of interest. However, once you have used these links to leave our site, you should note that we do not have any control over that other website. Therefore, we cannot be responsible for the protection and privacy of any information which you provide whilst visiting such sites and such sites are not governed by this privacy statement. You should exercise caution and look at the privacy statement applicable to the website in question.
Controlling your personal information
You may choose to restrict the collection or use of your personal information in the following ways:
whenever you are asked to fill in a form on the website, look for the box that you can click to indicate that you do not want the information to be used by anybody for direct marketing purposes
if you have previously agreed to us using your personal information for direct marketing purposes, you may change your mind at any time by writing to or emailing us as per the information given at the start of this Privacy Policy.
We will not sell, distribute or lease your personal information to third parties unless we have your permission or are required by law to do so. We may use your personal information to send you promotional information about third parties which we think you may find interesting.
You may request details of personal information which we hold about you. A small fee will be payable. If you would like a copy of the information held on you please write to us at the address mentioned at the start of this Privacy Policy.
If you believe that any information we are holding on you is incorrect or incomplete, please write or email us as soon as possible, at the above mentioned address. We will promptly correct any information found to be incorrect.
Contacting Us
If there are any questions regarding this Privacy Policy you may contact us at the above mentioned address.